Greetings, church family!
We move toward the fall "Back-to-School" season with a lot of questions and chaos this year In this week's update we're going to try to let you know what to expect in terms of church programming for the fall. You'll hear from Jamie, Sequoia, and Jamelle about discipleship opportunities in their various work areas. The key uniting theme will be "flexibility," as we will need to provide experiences that are in person when appropriate and on-line when necessary, seeking to maintain solid quality and meaning with both.
The Covid spike appears to be leveling out in Madison County for the time being. With in-person school attendance postponed, I would expect this trend to hold. If it does, we'll begin to discuss re-opening the doors for in-person worship sometime in September.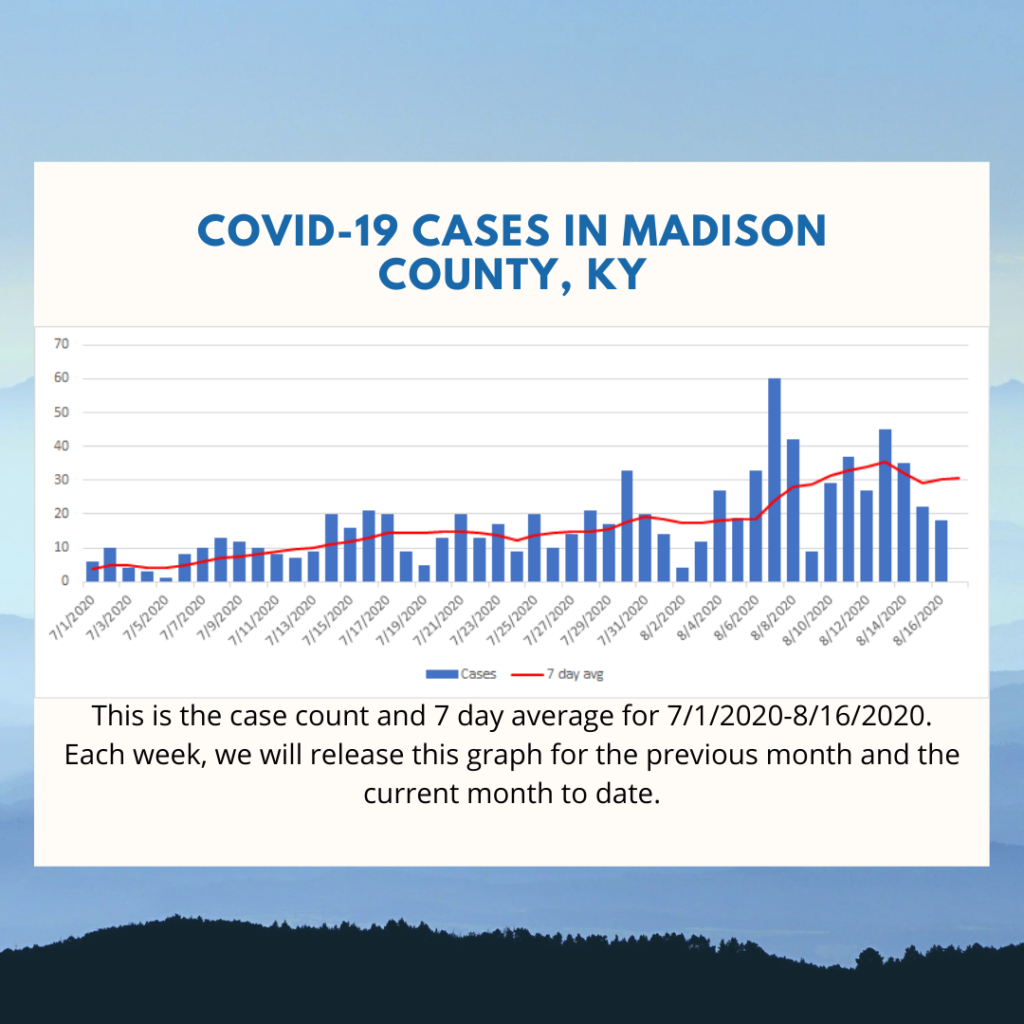 In the meantime, you can join us for worship online. New services are posted each Sunday morning. If you like the idea of being involved with worship in "real time," you'll want to log on through Facebook Live at 10:45 on Sunday mornings or 6:00 Sunday evenings for Thrive. If you're wanting to participate a little later in the week, you may find it (a little) simpler to access the service via Youtube any time after about 1:00 on Sunday afternoon. Links to all of the services are on the church's web page at www.richmondfumc.org.
From Jamie J:

One thing we've probably all noticed and felt: The longer the pandemic, the more we miss being with people! While we agreed there's nothing good about a pandemic, we can also agree God works through everything. So there's great opportunity to reshape what our discipleship looks like at FUMC.

The time is right to introduce a new type of small group. (Truth be told, it's really not new but it may be new to many of us.)

Imagine a group of people coming together to share and to listen to one another. Imagine a group committing to "watch over one another in love." Imagine a group sharing weekly their answers to the question, "How is your life with God?" More than just passing on information, this type of group seeks transformation. We are focusing on becoming more like Jesus, together.

We're calling these gatherings "Life Groups."

This fall, all of the FUMC family is encouraged to join a Life Group. Leaders are being invited to lead and will be trained. Our hope is to begin launching these Life Groups on September 9. Life Groups will meet weekly on a day, time, and place most convenient to the group. These gatherings may be in-person or by Zoom.

Would you pray that the Spirit would guide our efforts to draw us nearer to one another as we grow with Christ? Would you pray that God would lead you to a Life Group?
From Sequoia:

CALLING ALL CHILDREN!! Children Sabbath IS HAPPENING. August 30th join us on the Church's Facebook page for a children's lead video recorded worship service premiering at 10:45am & Thrive (5:42pm). This means I NEED YOUR HELP! I will be emailing all parents requesting lots of video recordings to help us bring the service together. Parents if you don't know receive an email from me this afternoon please let me know ASAP.

Also, we will be getting creative with how we give out our 3rd grade Bibles this year, and to make sure we have everyone accounted for, if you have a rising 3rd grader this school year please let me know at childrens.richmondfumc.org so I can check my list twice.



Children Break Time will be coming to an end. With school starting it time to say goodbye to children break time. However, there are still a few weeks left to get in your last visit with me. Visits with children and their families are safe, and done in socially distant ways — like chalk in the driveway or eating in lawn chairs. You can view available times, and sign up for one here, https://bit.ly/3c6VfxC.



Get ready for WNL virtual style. This year we are doing a lot of things differently and adapting. So, WNL is no different! Childrens Ministry in partnership with Adult Ministry will be hosting a family WNL zoom video-based gathering starting 9/9 6:30pm for 30mintues to share, read scripture, and to be encouraged to live out the lesson with a weekly activity. We will be studying the book of Ephesians, guided by Phil Vischer, VeggieTales co-creator. Our theme for the fall semester is HOPE! We hope to see you there…see what I did there.



Please make sure you are in our remind group for all updates and information as it relates to children ministry. You can join by texting @uptownfumc to 81010
From Jamelle:

Greetings Church Family,

I hope that everyone is doing well during this season of transition. Just a reminder that my name is Jamelle Jones, and I am your new Youth Pastor. With much prayer, discernment, and talking to the youth workers that help with the faith formation of your children, we have laid out a new way of doing student ministry for a while.


The youth ministry team and I came together for our online meeting to discuss the future of the student ministry. As a team, we want to keep the safety of our young people at the front of our minds, we want to follow the orders of the conference, and follow the leadership of our senior pastor. As a team, the decision is to do a "hybrid style" student ministry. Starting Wednesday, August 26th, at 6:30 pm, Emerge Student Ministry will have youth group online. Every Wednesday (starting next week, until further notice.) students, you can click a link, and join for youth group online. Having youth group online will be different, an adjustment, but we believe that the Holy Spirit will move. Every Wednesday starting on August 26th, you can click a link to have your child join the youth group. This is for all middle school and high school students.




As I mentioned in the earlier paragraph about meeting online with students until further notice, it means that if there is an opportunity to
meet in person (with prayerful consideration), we will allow as many students to come to youth group in person (depending on the guidelines we have to follow.) Until that time comes, we will meet on the zoom link for youth group.


If you have any questions, comments, or concerns, please email me directly or call the church office to get a hold of me. Blessings to you all.
Weekly Update (8-19-2020)