Greetings to our church family!
So the big news this week revolves around the "spike" in Covid cases and the governor's travel advisory and request that Kentuckians improve our efforts at maintaining social distance and using masks.
We resumed our in-person worship services just a few weeks ago, and have been pretty faithful at enforcing safe practices among those who attend worship in person. Please understand that we need to continue doing so, taking additional precautions as we discover them. We would also ask that if you or your family travel, that you consider "skipping" a Sunday after your return home, for the protection of those of those around you.
Numbers from our local health department show us that new Covid cases in Madison County have tripled in the last couple of weeks. There is some indication that maybe that trend has "topped out" and may go back down in the weeks ahead, but we're keeping a close eye on it. If the next week or so continues to rise, we may need to seriously consider closing our doors again as part of the community effort to protect one another from harm.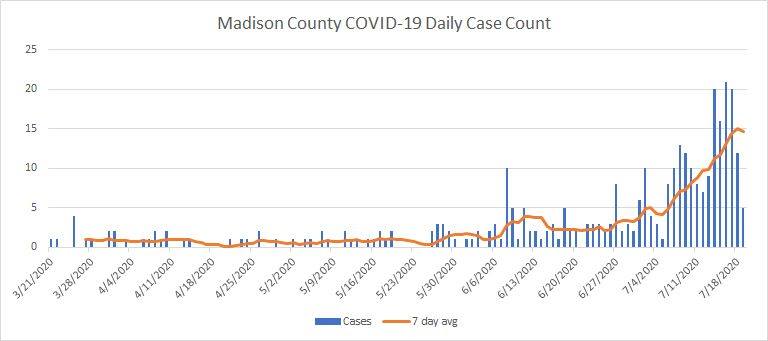 The Madison County School board has also released a series of options for school attendance when school resumes in August. Jonathan and Sequoia have put together a poll for our church's families to help us understand how these different options may inform the way we minister to our youth and children this fall. If your family hasn't filled this out yet, we'd love to hear from you:
Jonathan also has a paragraph to share with you about some new ministries coming up to help us support our students as they leave high school:
COMING SOON!
We are beginning a Graduate Ministry that will aim to maintain connection between our local church and our high-school graduates. We will provide encouragement and support for them, help them connect with local ministries where they are, and give them opportunities to stay connected with us remotely and physically when they might be in town. One key aspect of this will be pairing our graduates with someone in our church family who "adopts" them, to pray for them and encourage them. Please be thinking and praying about this opportunity and whether you feel led to "adopt" a graduate – it will not require much from you but will make a big impact on your graduate. We'll have more details and the chance to sign up next week!
In short, we're still very much at work, here, finding ways to continue our Kingdom Work in this new "Covid world."
Thanks for your prayers and support.
Weekly Update (7-22-2020)