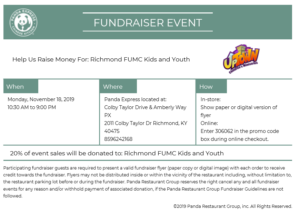 Panda Express in Richmond is hosting a fundraiser Monday, Nov. 18, for Richmond First United Methodist Church kids and youth! Eat at the Richmond Panda Express between 10:30 a.m. and 9 p.m. on Nov. 18, show a flier (or digital flier, available on this page) to your cashier when you order, and 20 percent of your bill will be donated back to Richmond FUMC to help send kids and youth to Aldersgate Camp!
If you order online, you can use the promo code 306062 to participate in the fundraiser.
Panda Express Fundraiser Flier
Eat at Panda Express on Monday, Nov. 18, for Aldersgate Camp!