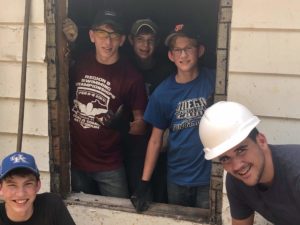 The Emerge youth from Richmond FUMC will take a regional mission trip with Christian Appalachian Project July 5-10, 2020. Sign up by Dec. 4!
The trip is open to youth who are at least 14 years old at the time of the trip. Trip participants will do home-repair work for a needy family, and the group will stay at the CAP facility in Mt. Vernon during the week. The cost is $250 per person, but all of that will be covered by fundraising with none paid out of pocket by anyone (which is one reason to sign up soon, as you'll need to be in on our fundraising efforts to help out).
To sign up or if you have questions, email youth pastor Jonathan Kleppinger at youth@richmondfumc.org.
Youth's regional mission trip with CAP is July 5-10, 2020 — sign up now!