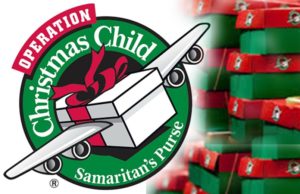 National Collection Week for Operation Christmas Child is Nov. 18-25, and Richmond First United Methodist Church is a donation center!
We need volunteers of all ages to collect, count and pack shoebox gifts into cartons so they reach children all over the world. We need volunteers to greet donors, pray with them and help in many ways. Sign up with your family!
For more details, contact Elizabeth Bendure at ebendure@hotmail.com or 859-893-1366.
Shifts needed:
11/18 11 a.m. to 2:30 p.m.
11/19 6-8:30 p.m.
11/20 6:30-9 p.m.
11/21 5-7 p.m.
11/22 3:30-5:30 p.m.
11/23 9 a.m. to noon
11/24 1-3 p.m.
11/25 9 a.m. to noon
Operation Christmas Child Collection Week Nov. 18-25 — volunteers needed!