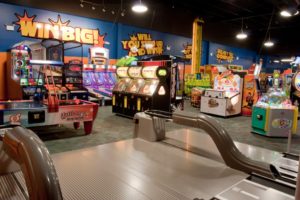 The Richmond FUMC Emerge youth will join other youth groups from Madison County for a lock-in at Gattitown in Lexington on Friday, Sept. 20.
We'll leave the church parking lot at 10 p.m. Friday and return around 6:30 a.m. Saturday. The games and soda will be open all night at Gattitown, and the pizza buffet will be open from 11 p.m. to 1 a.m.
Please sign up by Wednesday, Sept. 11, by emailing Jonathan at youth@richmondfumc.org. The cost is $25 (as always, scholarships are available), and the money and forms will be due by the time we leave Friday, Sept. 20. Each youth will need to have an Emerge Student Form for the 2019-2020 year completed, as well as a permission slip for the Gattitown trip (both available below).
Gattitown lock-in for youth Sept. 20-21