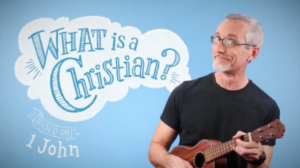 This fall, we'd like to have children, youth and adults all join in a study of 1 John together! It will involve study, contemplation, discussion and a weekly video from Phil Vischer (co-creator of VeggieTales and the voice of Bob the Tomato and many others) that is very kid-friendly but also amusing and challenging for adults.
We will have a meeting time each week at church on Wednesdays at 7 a.m. (we'll be done by 7:40 a.m. to let everyone get to school and work), but you'll also have the option of completing the study on your own with family or friends. We will make a study guide available online to print, and you can access the videos (and all the other content on RightNow Media!) on your phone, computer or smart TV.
We will start the study Wednesday, Sept. 4, with a meeting at 7 a.m. in the MMC for those who can come and all the materials posted online for those who can't. Each week, the study guide will instruct you to read a short section of 1 John, think about it and take notes (or draw pictures), discuss it with others doing the study, and then watch that week's video (all videos are between 8 and 10 minutes long).
We will have a study for each week through Wednesday, Dec. 18, with the exception of the week of Thanksgiving. If you have questions or you're interested in doing the study, with us on Wednesday mornings or on your own, email Jonathan at youth@richmondfumc.org! Materials and links will be posted before the study begins.
MATERIALS
Download the PDF file below and print it out two-sided. We suggest you put it in a three-ring binder, so most weeks you will have the instructions visible on the left page and the scripture visible on the right page. Each week has instructions, to read the passage, think about and discuss the passage, and then watch the video.
LINKS
You can go to the RightNow page for the video series, "1 John — What is a Christian?" by Phil Vischer by clicking here. You can watch on your computer, tablet, phone or smart TV! The instructions for each week tell you which video you'll be watching that week. If you need to create your free RightNow Media account through our church, check out this post.
Study 1 John with us this fall — all ages, on your own time!