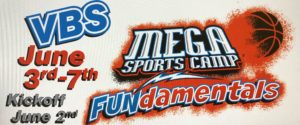 Click here to register
Kids will hear inspiring sports stories & experience life-changing Bible stories while learning amazing sports/skill.
Our VBS will be held Monday, June 3 – Friday, June 7, from 6:00 p.m. – 8:30 p.m.
A child must have completed Kindergarten to attend VBS. Children who have completed 5th grade can attend.Our MEGA Sports/SKills camp KickOff will be held Sunday, June 2 at 6:00 p.m. in our Multi-Ministry Center building (MMC). Food will be provided starting at 5:30 p.m.
Questions? Contact Sequoia Wheeler, Director of Children's Ministries at children@richmondfumc.org or 859-623-3580
1 Corinthians 16:13
Watch, stand fast in faith, be brave, be strong.
MEGA Sports/Skills Camp Register