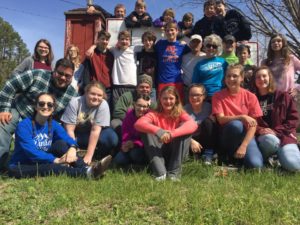 Our annual guys' and girls' retreats will be held at Aldersgate Camp May 3-5! The trips will occur at the same time, but girls will be staying in a cottage and guys will be staying in the Outpost cabins, and the groups will be separate for most of the weekend.
We'll leave Friday afternoon, May 3, and return before lunch Sunday, May 5. The cost for the trip is $70, but scholarship money is available — just ask! Two nights of lodging as well as five meals (Friday dinner through Sunday breakfast) are included in that. You can pay via cash or check, OR you can pay through our giving website
here
— just select "Youth Guys'/Girls' Retreat" as the fund you're giving to.
Sign up as soon as you can; space is limited! To reserve your spot, email Jonathan at , and he'll put you on the list. Money and forms will be due Wednesday, May 1. See links below for Emerge Student Form and permission slip.
The trip is open to current sixth- through 12th-graders.
PACKING LIST:
Required:

Bible
Notebook/journal
Pen/pencil
Sleeping bag and/or blankets, and a pillow (everyone sleeping on bunks — guys in unheated cabins; girls in heated cottage)
Towel, washcloth, shampoo, soap (girls only)
Other toiletries (toothbrush, toothpaste, deodorant, etc.)
Clothes for Saturday and Sunday PLUS EXTRAS for if and when you get dirty and want to change
Tennis shoes (but not your newest, brightest ones — they will get dirty)

Optional:

Card games/board games
Frisbees, footballs
Camera
Snacks (to share if you want to be nice!)

Things you won't need so you may want to just leave home:

Your cell phone
Your iPod
Your game system
Anything electronic
Guys/Girls Retreat 2019 Permission
Guys', girls' youth retreats are May 3-5 at Aldersgate Camp!