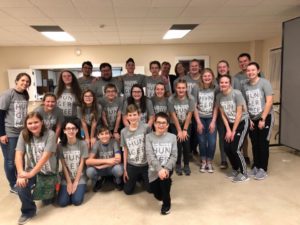 The Richmond First United Methodist Church's Emerge youth program will have a 30-Hour Famine from Friday, Feb. 22, to Saturday, Feb. 23, at church. The deadline to sign up is Wednesday, Feb. 13. Sign by completing the form below and giving it to Jonathan Kleppinger (youth@richmondfumc.org) — make sure to include your T-shirt size! The cost is $20, due Feb. 22; as always, we have scholarship money available for anyone who might need it — just talk to Jonathan.
During the 30-Hour Famine (which is run by WorldVision), youth will learn more about world hunger and local hunger while getting just a small taste of what hunger feels like as they go 30 hours themselves without eating. Those participating in the 30-Hour Famine will stop eating after lunch on Friday (around noon) and won't have any food until we celebrate a dinner together Saturday around 6 p.m. to conclude the famine.
We will gather at 6 p.m. Friday in the MMC to begin our activities. We'll have games, service projects, movies, worship, guest speakers, prayer and more! We'll move over to the main building later in the evening and spend the night in the UpTown children's area (boys and girls separate) and have our Saturday activities in the main building, finishing with the meal in Fellowship Hall. We will be done by 6:30 p.m. Saturday.
You will see a spot for a sponsor name on the form. This can be any adult, preferably one you know in your church, who commits to pray for you during the famine. They are also invited (but not required) to make a donation to WorldVision in your name and attend our meal together Saturday, Feb. 23, at 6 p.m. in Fellowship Hall. Talk to Jonathan if you need help figuring out a sponsor.
30-Hour Famine for Richmond FUMC youth is Feb. 22-23