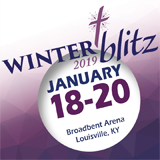 The Emerge youth of Richmond First United Methodist Church will be attending the Kentucky United Methodist youth conference, Winter Blitz, Jan. 18-20 in Louisville!
The conference includes four sessions of worship, games and messages at Broadbent Arena. We'll be staying two nights at Christ Church United Methodist in Louisville.
The cost for Winter Blitz is $60. This includes breakfast and lunch Saturday and Sunday but not three other meals (Friday dinner, Saturday dinner, Sunday lunch) — youth will need to bring money to cover those three meals, probably at least $7/meal (fast food places, mall food court). We will leave church Friday, Jan. 18, around 4:30 p.m. and return Sunday, Jan. 20, around 3 p.m. Those times will be more specific as we get nearer to the trip.
The deadline to sign up is Wednesday, Nov. 28. Ticket prices go up after this, so you'll be able to sign up after, but it will cost more. To sign up, email Jonathan at youth@richmondfumc.org. You do not have to turn your money and forms in by Nov. 28, but a ticket will be purchased for you that you will be responsible for paying for later. As always, we offer discounts for siblings and we have scholarship money available for any who need it — just ask Jonathan.
Those who attend will need to have completed an Emerge Student Form for 2018-2019 (if you've already filled one out this school year, you don't have to do it again!) and a permission slip, both attached below.
Packing list will be posted here closer to the time of the trip.
Winter Blitz youth conference is Jan. 18-20 in Louisville