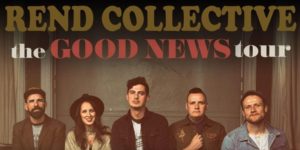 The Emerge youth will take a road trip to Wilmore on Saturday, Nov. 10, to see Rend Collective in concert at Asbury University! You may know Rend Collective from the radio — songs such as "Build Your Kingdom Here," "Counting Every Blessing," "My Lighthouse" or "Rescuer (Good News)." They do a lot of worship music, and it should be a fantastic event.
General-admission tickets are $30. Tell Jonathan (youth@richmondfumc.org) you're going and get him money by Wednesday, Oct. 24, if you want a ticket. As always, talk to Jonathan if money is an issue, as we never want youth to be held back from going to an activity because of money. A permission form (attached below) must be completed for each youth attending.
We'll have more details as the event approaches, but we're likely to leave the church parking lot around 4:30 or 5 p.m. Saturday, Nov. 10, and return late, possibly around 11 p.m. We may stop for some fast, cheap dinner on the way.
Emerge youth taking trip to Rend Collective concert in Wilmore on Nov. 10