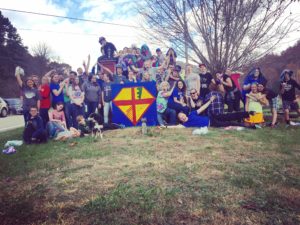 It's time again for your favorite trip of the year (or what will become your favorite trip of the year)! Emerge will host its annual fall retreat at Aldersgate Camp from Friday, Nov. 2, through Sunday, Nov. 4. This retreat is a joint event with The Walk youth group from Berea United Methodist Church.
We'll meet in the Richmond FUMC church parking lot at 4:30 p.m. Friday, Nov. 2, and return around 12:30 p.m. Sunday, Nov. 4. Our fall retreat is typically one of our students' and counselors' favorite events of the whole year, as we spend a weekend in the mountains away from the distractions of everyday life and grow closer together as a family as we grow closer to God.
The cost of the retreat is $70 for each student. They will have lodging covered for two nights in Aldersgate's very comfortable cottages, and they will have all their meals from Friday dinner to Sunday breakfast covered in the Aldersgate dining hall. There are limited scholarship funds available; many students also have money available to use from fundraisers they have done; and there will be a discount for families with multiple children attending. Talk to Jonathan for questions or more information about any of those issues.
Money and forms are due Wednesday, Oct. 24.
Each student attending (and their parent) will need to have completed and returned:
an Emerge Student Form (a variety of information that covers all our events in the 2018-2019 school year)
an Aldersgate Camp Release Form (unless they completed one for our spring guys' and girls' retreats or another camp this calendar year)
a permission slip for this trip (for FUMC)
their T-shirt size (give this to Jonathan)
All of these forms are available below electronically. Those who have already completed an Emerge Student Form this year need not complete it again.
Aldersgate Camp is in Ravenna, Kentucky, about an hour east of Richmond.
Fall Retreat for Richmond FUMC youth is Nov. 2-4 at Aldersgate Camp