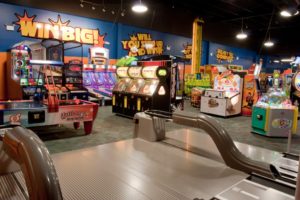 The Emerge youth group's annual Gattitown lock-in with other area churches will be Friday evening, Oct. 19, through Saturday morning, Oct. 20. We'll depart the church parking lot at 10 p.m. Friday and return around 6:30 a.m. Saturday.
Arcade games, soda and movies will be open all night for everyone. The pizza buffet will be open from 11 p.m. to 1 a.m., and there will be a short devotion around 1:15 a.m. We'll have doughnuts, milk and orange juice for everyone around 5 a.m.
The cost for the lock-in is $25. If the cost is an issue for you, just talk to Jonathan; we have scholarship money available. The money and forms will be due by the time we depart the parking lot Friday evening. You will need to complete a Gattitown permission slip (attached below) as well as an Emerge Student Form for 2018-2019 (also attached below) if you haven't filled one out yet.
You need to sign up by Wednesday, Oct. 10. To sign up, send Jonathan a text or an email (youth@richmondfumc.org) saying that you're going.
Gattitown lock-in for youth is Oct. 19!