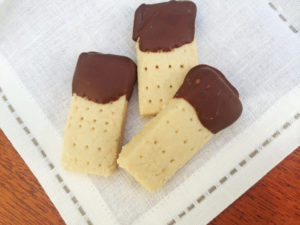 What if I told you that you could get a delicious piece of walnut shortbread dipped in chocolate, support the youth's regional mission trip, and have a chance to win a full homemade Mexican dinner for 12, all at the same time? Well, you can.
The youth are selling pieces of  "Mama Ruth" Babbitt's shortbread for $10 each through Oct. 1. The proceeds will go to help fund the youth's regional mission trip with Christian Appalachian Project next summer, and one lucky shortbread owner will also win the homemade Mexican dinner, made by Mama Ruth. That meal will include chicken and cheese enchiladas, spiced beef, refried beans, Spanish rice, hand-rolled tortillas and cheesecake for 12. The drawing will be done Tuesday, Oct. 2.
During the youth's 2018 regional mission trip, they helped with home repair for the needy in Jackson County, building a front deck and a back deck, replacing underpinning around a trailer, painting a roof, and replacing windows.
See Jonathan if you have questions or want to buy some shortbread!
Buy chocolate-dipped walnut shortbread and get a chance to win a homemade Mexican dinner for 12