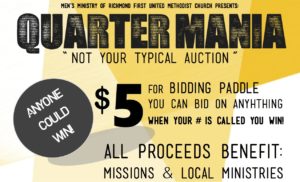 The third annual Quarter Mania will be Saturday, Aug. 18, at Richmond First United Methodist Church. The event, presented by the men's ministry, is "not your typical auction."
Doors and concessions open at 5 p.m. in the gym of the MMC building. A pulled-pork barbecue meal will be available for $5. The auction starts at 6 p.m.
You can buy a paddle to bid with for $5. Then each bid will be a pre-set number of quarters — for instance, you can try for a $25 gift card to Target with 2 quarters, or a $50 gift card to Casa Fiesta with 3 quarters. If you bid with your quarters, you'll win if your paddle number is called.
Come bid on items from Dairy Queen, Cinemark, Penn Station, Galaxy Bowling, Target, Casa Fiesta, Meijer, Evan's Tire and Auto Care, and many others around the area!
All proceeds benefit missions and local ministries. For questions or more information, see the Facebook event here.
Quarter Mania is Aug. 18 at Richmond First United Methodist Church