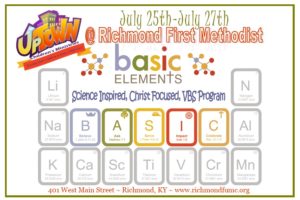 Its that time of the year again! Please join FUMC for our Basic Element: Science Inspired, Christ Forces, VBS Program!
VBS will be in the church's multi-ministry center (MMC) building starting from 6:15-8:35 p.m. each night from Wednesday, July 25, through Friday, July 27 (registration is at 6 p.m.). The program will conclude with a celebration Sunday evening, July 29, at 5:15 p.m. in the gym. Children from 3 years old (potty-trained) to rising sixth-graders are invited to participate.
Sign up here! We can't wait to see you!
Richmond FUMC's 2018 Vacation Bible School is July 25-27!