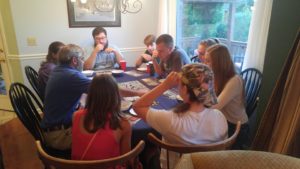 The Emerge youth at Richmond First United Methodist Church are being welcomed into homes — willingly!
Most Thursdays during the summer, youth will gather at homes of church families for various events. These could be cookouts or bonfires or movie nights or game nights or Frisbee nights or pool parties or any or all of the above. Each will include dinner, as well! Gatherings will generally begin at 6 p.m. and end around 9 p.m., but specifics will be posted in the Emerge Facebook group.
See a schedule below to see which families are hosting which nights. Rides should be available — if you ask! For addresses or other details, ask Jonathan (text/call or email youth@richmondfumc.org).
Emerge STEW — Summer Thursday Evening With…
Thursday, June 21 … the Kleppingers
Thursday, June 28 … the Babbitts
Thursday, July 5 … the Jordans
Thursday, July 12 … the Nettletons
Thursday, July 19 … TBA
Thursday, July 26 — No gathering (due to VBS)
Thursday, Aug. 2 … the Nystroms
Thursday, Aug. 9 … TBA
Church families hosting Emerge youth for summer Thursday-evening gatherings