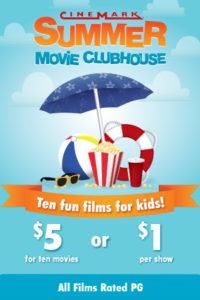 The summer is here but that doesn't mean we still can't get together and hang out!!!!
Richmond Cinemark will be showing kid-friendly (PG-rated) movies each Wednesday at 10:00 AM for just $1.00. You read that right, it's just $1.00. So let's stay connected this summer. Join Sequoia and Children's Ministry on Wednesdays when you are in town for a fun movie!
We will meet at 9:30 AM so we have time to use the bathroom, get our tickets and popcorn, and enjoy a movie together.
To go, just let Sequoia know you will be there via text (571-243-5531), email (children@richmondfumc.org) or verbally (so we know to save you a seat) and then meet out front of the theater at 9:30 AM with $1.00 (or extra if you want popcorn). It's that simple!!
View the schedule here, and catch a movie with us when you can. We look forward to seeing you there.
(Parents are welcome as well)
Children's Summer Movie Club-Let's Stay connected Over the Summer