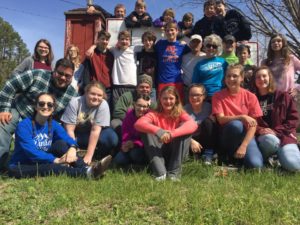 Our annual guys' and girls' retreats will be held at Aldersgate Camp April 13-15! The trips will occur at the same time, but girls will be staying in a cottage and guys will be staying in the Outpost cabins, and the groups will be separate for most of the weekend.
We'll leave Friday afternoon, April 13, and return before lunch Sunday, April 15. The cost for the trip is $60, but scholarship money is available — just ask! Two nights of lodging as well as five meals (Friday dinner through Sunday breakfast) are included in that.
Sign up as soon as you can; space is limited! To reserve your spot, email Jonathan at youth@richmondfumc.org, and he'll put you on the list. Money and forms will be due Wednesday, April 11. See links below for Emerge Student Form and permission slip.
Packing lists will be posted closer to the time of the trip. The trip is open to current sixth- through 12th-graders.
Guys Girls Spring 2018 Permission
Emerge guys', girls' retreats for youth are April 13-15