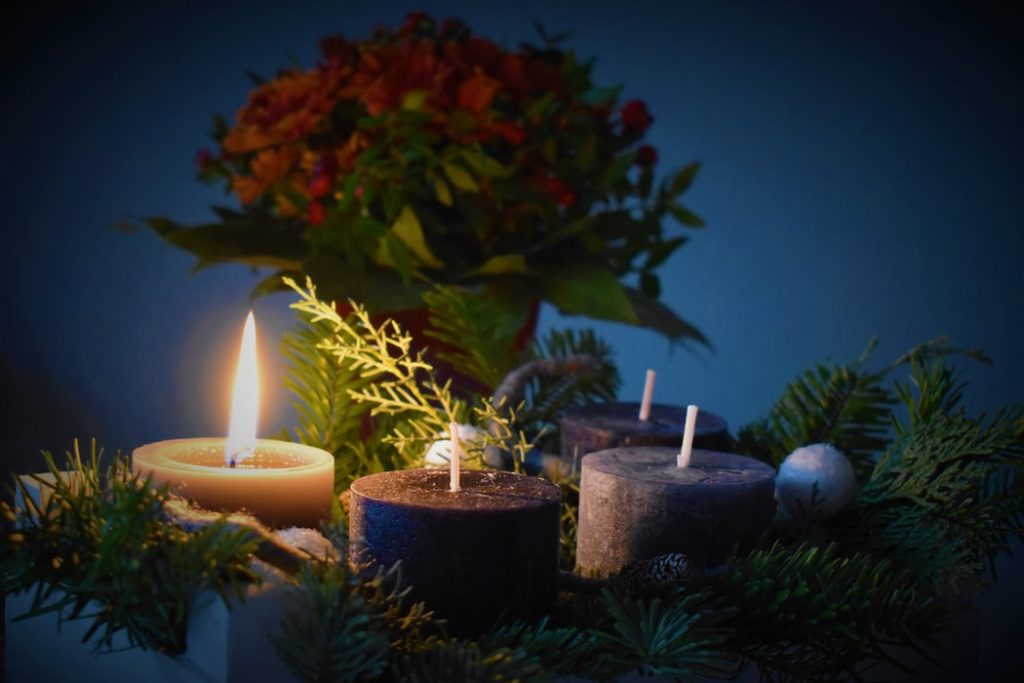 Probably the first thing I notice each year is the lights.
Halloween is barely over, and the lights begin to appear. They show up in the stores and begin to show up on scattered houses and lawns in the subdivision where I live. Lots of cities fire their lights up during the first weekend in November and leave them on throughout the season. They sparkle in colors and outline shapes, sometimes dangling like electric icicles.
These days, electric lights of one sort or another have largely replaced the more traditional candles in the windows, and the "candles on the tree" we sing about in I'll be home for Christmas are literary left-overs of an age long passed. According to one tradition, Martin Luther is responsible for the first Christmas tree, illuminated with lit candles. Today, of course, his church trustees would have flocked the tree with foam from the nearest fire extinguisher. Tempus fugit.
Long before electric lights (or even wax candles) though, light was already well established symbol of the birth of Christ. In fact, one could even argue that light was a symbol for the birth of Christ before the birth of Christ even happened. Isaiah 9:2, which the early church understood as vision of the Messiah, says "The people walking in darkness have seen a great light; on those living in the land of deep darkness a light has dawned."
Our church's theme for Advent this year is "A Light Shines in the Darkness." It's a theme rooted in the Bible, of course, so timeless in the ultimate sense, never out of date. Somehow, though, it feels even more relevant than ever in this season that the world is moving through.
Have we ever more desperately needed to hear that there is a dawn on the other side of our present darkness?
This packet contains some materials that we hope will lend meaning and hope to your Advent season as we explore together what it means to receive Christ as our "Light of the World."
We invite you to assemble your Advent wreath and read along with us in the included devotional guide each day. Join us each Sunday for our online or in-person worship experiences. Celebrate together with us on Christmas Eve as we bear Christ's light into our community in Spirit and in Truth.
And may Christmas dawn with the Light of Christ in each of our hearts and homes.
Advent Devotionals Introduction