Get the Richmond First UMC MyChurch App:
You can now download an app for Richmond First United Methodist Church on your mobile device!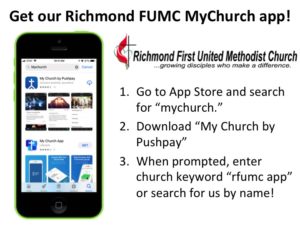 Visit your device's app store and search for "MyChurch" — you're looking for the app "My Church by Pushpay." Download the app. Once you open it, you'll be prompted to find your church using either a keyword or a name search. You can enter the church keyword "rfumc app" or look up Richmond First United Methodist Church by name to link the app to Richmond FUMC.
When you first open the app, you'll be prompted to allow notifications and location services (we can use this to send messages to those who are on church property or those who are not on church property), and you'll also be asked to choose which categories of push notifications you're interested in (church news is checked by default; you can also choose Emerge youth ministry, Uptown children's ministry, adult ministries, music ministry or missions).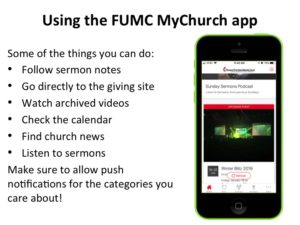 Some of the things you can do in the app include following sermon notes, going directly to a new online giving site, watching archived videos, checking the church calendar, finding church news and listening to archived sermons. We'll be continuing to update what is offered inside the app for your convenience!
Questions? Email youth pastor Jonathan Kleppinger at .
Get the new Richmond FUMC MyChurch app!