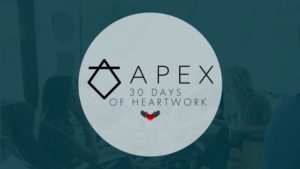 Many of the adult and student members of the Emerge youth ministry will be doing the "APEX: 30 Days of Heart Work" daily devotional together this Lent season, and you're invited to join us!
The plan is available online here, and also through the Bible app on your phone/tablet. Each day includes a short scripture reading, some devotional content and an "empathy challenge" in which we'll be asked to do various activities to help us understand the needs and challenges of those less fortunate than us. What we talk about in Emerge will relate to this, but our Wednesday activities won't depend on youth having done the devotional.
We'll start the plan with day 1 on Wednesday, Feb. 21, ending with day 30 on Thursday, March 22. If you'd like to participate with us, email Jonathan at youth@richmondfumc.org so he can put you on the list. We'll use that list to send out reminders and encouragement through text messages (or email if you don't text).
***Note: We will be specifically doing the "APEX: 30 Days of Heartwork" plan. There is also a plan called "30 Days of Heartwork" that is very similar, but there are some differences that will matter.
Do the "APEX: 30 Days of Heart Work" devotional with your youth, church family