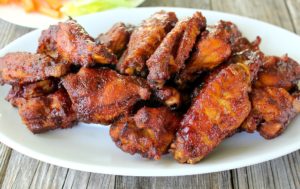 It's time again for your favorite Super Bowl Sunday tradition: buying delicious homemade chicken wings and desserts to support your church's youth ministry. You can order now, and pickup will be the weekend of Super Bowl Sunday (Feb. 4).
Our own Ruth Babbitt and Courtney Kleppinger are again lending their cooking and baking talents to make all the items we are offering this year, which include standbys like Ma Ruth's chicken wings and Courtney's chocolate-chip sea-salt cookies as well as new items such as homemade marshmallows dipped in chocolate, cheesecakes and pecan tassies.
Find the order form below; it's also available on the RAMP outside the church office, and youth will be at the church during Sunday worship services Jan. 21 and Jan. 28 to distribute and collect order forms. Forms can be emailed to youth@richmondfumc.org or dropped off at the church office, the Growing Place office or Jonathan Kleppinger's office (MMC 205). The deadline for orders is Monday, Jan. 29. You can choose a pickup time of Friday, Feb. 2, from 4-5:30 p.m.; Sunday, Feb. 4, from 9:30 a.m. to 12:15 p.m.; or Sunday, Feb. 4, from 5-5:30 p.m.
All proceeds will benefit youth missions and scholarships at Richmond FUMC, including the upcoming regional mission trip to eastern Kentucky with Christian Appalachian Project in June.
For more information, contact Jonathan at youth@richmondfumc.org.
2018 Super Bowl wings/desserts order form
Order forms for Super Bowl Sunday wings/dessert fundraiser available