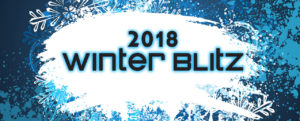 We're taking our annual trip to Winter Blitz in January!
Winter Blitz is a three-day youth conference put on by the Kentucky United Methodist Conference. It will be Jan. 19-21 this year in Louisville in Broadbent Arena (behind Freedom Hall), and it features four sessions of games, worship, entertainment and messages.
In previous years, our group from Richmond FUMC has stayed in a hotel during the trip. But this year, St. Matthews UMC in Louisville has been kind enough to open its doors and host us for the weekend. The ultimate result of this is that the church saves money and you save money!
The cost for Winter Blitz this year will be $50 (this is roughly $20 less than it has been in the past) if you sign up by Dec. 3. We also offer a sibling discount and have scholarship money available. In addition to the $50, each youth will need to bring money to cover three fast-food meals.
We'll have more details as we get closer to the event, but the important thing right now is to sign up before the cost goes up (our price will increase along with Winter Blitz's increases in ticket prices; we'll charge $60 from Dec. 4 to Jan. 17, and $65 after Jan. 17).
To sign up, contact Jonathan (youth@richmondfumc.org) and tell him you're committed to go! We'll get a ticket for you; the money and forms won't be due until mid-January. See forms below.
Winter Blitz is Jan. 19-21 — sign up now!