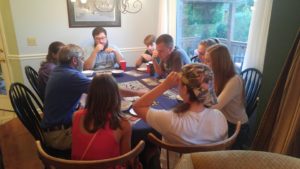 Ever wondered what it would be like to play board games with your senior pastor on Friday the 13th in the month of Halloween? This is probably the only chance you'll ever get to find out.
The Emerge youth at Richmond FUMC will have a game night at Pastor Bruce Nettletons' house (408 Reynolds Drive) in Richmond on Friday, Oct. 13, from 7-9 p.m. Refreshments will be provided. Come ready to learn new board games and card games and have fun! All middle-schoolers and high-schoolers are invited — bring a friend!
Call or text Jonathan or email him at youth@richmondfumc.org if you need a ride or have any other questions.
Emerge youth game night set for Friday, Oct. 13, at Nettletons' house