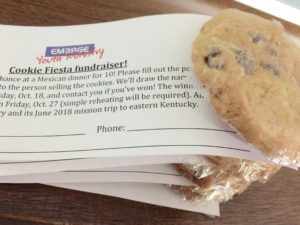 Cookies are good. Supporting the youth group is awesome. Winning a Mexican dinner for 10? That's just unbelievable. You could get all three of those things by paying $10 for a cookie and a chance at winning the dinner in our "Cookie Fiesta" fundraiser. All proceeds will go toward Emerge Youth Ministry and our June 2018 mission trip to eastern Kentucky with Christian Appalachian Project.
The cookies, baked by our beloved "Mama Ruth" Babbitt, are $10 each. With each cookie purchased, your name will be entered into a drawing for the Mexican dinner — also cooked by Mama Ruth! We'll draw a name Wednesday, Oct. 18, and contact the winner. The dinner will be available to be picked up from Richmond FUMC (refrigerated, with simple reheating required) Friday, Oct. 29.
The dinner for 10 will include:
Hand-rolled flour tortillas
Spiced beef
Chicken fajita meat
Refried beans
Spanish rice
Chicken and cheese enchiladas
Chopped lettuce
Sour cream
Pico de gallo
Guacamole
Chopped tomatoes
Dessert: Chocolate caramel hot-fudge cake
If you're interested in purchasing a cookie, find Jonathan or a youth to buy one for $10. If you're a youth, you might be especially interested in selling them if you want to go on our CAP mission trip in June 2018 (but you will benefit from the results regardless) — get some from Jonathan to sell!
'Cookie Fiesta' youth fundraiser: Buy a cookie, win a chance at a gourmet Mexican dinner!